062 Plastic Drum Pump
Allows economical dispensing of most common cleaning chemicals. Ideal for water based liquids. 8 oz. per stroke. Fits 3/4" and 2" drum openings and 5 gallon pails with Rieke Senior Spout. Polyethylene and polypropylene. (55 gallon and 5 gallon containers)


062-1

063 Metal Drum Pump
Chrome plated. Lift style 22 oz per stroke. Steel pumps provide greater durability, perform) better with thicker liquids and solvents. (55 gallon containers)
063-1

703 Pail Pump
Chrome plated. 4 oz per stroke. Hand operated. (5 gallon containers)
703-1
064 One Gallon Pump Dispenser
Upright pump dispenser. 1 oz per pump. Fits all one gallon bottles. *Purchase of this accessory must accompany product order.
064-1
065 Hand Cleaner Dispenser
Wall mounted dispenser holds one gallon flat top container. Designed for waterless hand cleaner one gallon packaging.
065-1
706 ML Dispenser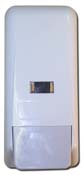 Designed for 800 ml 'bag in box' refills. Available in decorative white. Slim - streamlined.

See Instant Hand Sanitizing Gel
706-1
067 800 ML Senser Dispenser - "Bag in Box" -
No Touch Dispenser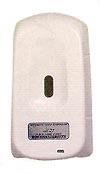 FEATURES:
*Infrared motion sensor recognizes hand presence within a 4" range
*Dispenser released approximate .7 cc of soap per pump
*Requires 4 "D" alkaline batteries (not included)
*Ideal for food service and health care applications and upscale work areas
*Accommodates many 800 ml 'bag in box' soaps, including hand sanitizers
*Meets ADA requirements

See Instant Hand Sanitizing Gel
067-1

710 Automated Drain Maintainer - Automated Bacterial Enzyme Pump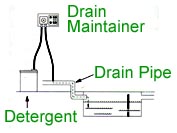 Features:
*Automatically pumps bacterial/enzyme products from pails into drain
*Easy to use timer allows user to program day, time, and duration of application
*Conveniently fits Rieke spouts on 5 gallon pails
*Comes with 12V transformer - batteries not included

This allows the user to program the amount of doses per day to address the given particular area in the most effective way. Again this affords the user the ability to automate and not depend on human error. The key to the bacterial enzyme products and consistent application. This inexpensive dispenser allows the user to achieve his maintenance goal, save money, reduce grease trap pump outs, and maintain lines while sourcing out odors and waste. Wall or pail mounted.

See Live Micro, Bio Flow
710-1

068 Proportioning Dispenser
Ultra Mix and Match Blend Center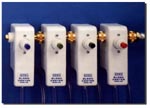 Non-electric, connects to hose or water line. Units mount on wall or any vertical surface. Draws from any size original container. Push button actuated. Color coded buttons to quickly match products to stations. All models now available with Ultra Gap air gap proportioner, designed to meet all National and International Plumbing regulations for backflow prevention.

The blend center with its modular design lets you easily couple together any number of stations to create a system that meets your specific needs, eliminating the need for excessive, costly inventory.

Blend center proportioners dispense precise amounts of liquids into open containers or bottles from a centralized workstation. The push buttons can be locked in place to easily fill large containers. Blend ratios and the proportion of chemical to water are set by interchangeable, color coded, threaded metering tips. All valves and proportioners are easily accessible for servicing and blend adjustment.

*Available in 1GM or 4GM flow.

One Station Blend Center (one button)
Complete with 6' water inlet hose, metering top kit and instructions

See Super Orange Degreaser, Citra Wipe Ultra Concentrate, Ultra Glisten Glass Cleaner Concentrate, Ultra Non-Acid Bathroom Cleaner Concentrate
068-1
Available:

070 Complete Build-a-Rack System
Four shelf - comes complete with racks and two - five gallon fill dispensers The dispensing racks are designed to support 200 lbs with stability and safety. This will allow the user to organize his system to cut down shelf space and take advantage of the tremendous economics when blending the Ultra products. If you have special requests call direct and these rack systems can be custom designed. Standard verticle shelf spacing -14 inches.
070-1

071 Build-a-Rack
Four shelf without dispensing bottles (Rack only). Standard vertical shelf spacing - 14 inches. Packed 1/case.
071-1

Automated Air Dispenser
408-1